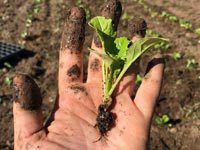 Learn to grow vibrant, tasty and healthy plants from our knowledgeable staff and community educators. Register for free classes, tours, walks and talks at the Welcome Tent. Tickets are given out on a first-come, first-served basis. Space is limited.
Free Gardening Classes
Meet in Schoolhouse
9:15–10am Backyard Beekeeping with Rachel Morrison, The Beecharmers
10:15–11am Worm Composting with Cheri Davis, SMUD
10:30–11:30am Basic Spring Gardening with Shawn Harrison (meet in Oak Shelter)
11:15am–noon Raising Backyard Chickens  with Greg Howes and Brian Fikes, Two Flew the Coop
12:15–1pm Gardening with Native Plants with Mark Lum, California Native Plant Society
Tours, Walks & Talks
Meet at Oak Shelter
10–10:45am Farm Tour with Tyler Stowers
10–11am Bird Walk with Cliff Hawley
11–11:45am Herb Walk with Kellan MacKay
11am–noon Nature Walk with Cliff Hawley
12–12:45pm Edible City Walk with Shiree Rezendes
12:15–1pm Gardening with Kids with Alyssa Kassner and Lacey Carlson
Culinary Arts Fundraiser • 9:30am to 1pm
We will be serving brunch at the Farmhouse Kitchen window beginning at 9:30am until we run out.  Get your lunch ticket in the barn at Phoebe's Tea & Snack Bar. Proceeds benefit our Eat the Rainbow culinary arts program.
Green Plate Special: Organic farm fresh frittata with seasonal vegetables, organic roasted potatoes, organic mixed green salad and baguette and butter. $8 donation.
Kids Plate: Farm animal-shaped Belgian whole grain waffle with organic maple syrup, organic apple sauce pouch, organic juice pouch. $5 donation.
Location: American River Ranch, 2140 Chase Dr., Rancho Cordova. This is a rain or shine event.