To forget how to dig in the earth and tend to the soil is to forget ourselves. ~Mahatma Gandhi
A Garden in Every School Symposium
February 25 & 26 • Early Bird Registration is Open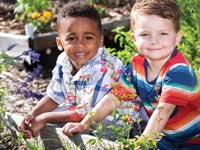 We've planned an inspiring weekend for you! Network with like-minded teachers, parents, garden designers, community leaders, school garden coordinators, and others involved with helping kids make the connection between food, health and the environment. By encouraging and supporting a garden in every school, we create opportunities for our children to discover fresh food, connect to a living environment while applying academic standards, to develop social and emotional skills and consider future career options. Gardens offer beautiful, dynamic settings to integrate every discipline, including science, math, reading, art, environmental studies, nutrition and health. Our intention is to advance Delaine Eastin's A Garden in Every School initiative by advocating for a collaborative regional commitment to accomplish the goal of a garden in every school by 2020 for the children of America's Farm-to-Fork Capital. Will you help us?
Saturday, February 25 & 26 • Luther Burbank High School
Early Bird Registration: $75
Registration after February 17: $95
Discount available for groups of 3+
Registration for the weekend includes a light breakfast, lunch and snacks on both days. Please note: We are not offering a one day option.
Get Involved!
Collaborative partners or volunteers: Contact Shannon Hardwicke >>
Sponsorship information: Contact Liz Shahbazian >>
Donations and media partners: Contact Janet Zeller >>
General information and scholarships: Contact Rebecca Le >>
Citrus Season is Here
Trainings, Tree Plantings & Gleaning Opportunities Ahead
Harvest Sacramento's first community citrus harvest of the 2017 Citrus Season is this Saturday, January 7 (weather permitting) at the Colonial Heights branch of the Sacramento Public Library, with weekly harvest events continuing into early spring. Our Citrus Season harvest events will involve many hundreds of volunteers gleaning tens of thousands of pounds of nutritious fruit from trees in neighborhoods throughout the Sacramento region for donation to Sacramento Food Bank & Family Services and their network of local food distribution partners.
The immense benefits to our community that this fruit will provide are made possible by our extensive network of partner community organizations, by the owners of the trees and by volunteer harvesters like you.
Register to volunteer at a harvest >>
Register a tree to be harvested >>
During the season we will be collaborating with many wonderful community organizations including Sacramento Building Healthy Communities, Sacramento Food Bank & Family Services, Slow Food Sacramento, The Sacramento Tree Foundation, The Yisrael Family Farm, Food Literacy Center, Sierra Service Project, Oak Park Soil, CSUS Community Engagement Center and the Sacramento Natural Foods Co-op.
Winter offers citrus gleaning opportunities with our with neighborhood gleaning groups. Look for event dates and details on our our website and Facebook, Instagram and Twitter.
For more information or to get involved with Harvest Sacramento's programs, contact Edible City Coordinator Dominic Allamano.
Winter Classes at the American River Ranch
Let us inspire you! Pre-Registration Required
View complete schedule of classes, events, instructor info and registration >>
Featured Class with Daylin Wade, Herbalist and Community Educator
Herbs for Stress Relief and Relaxation
Saturday, January 21 • 9am to 12pm

Are you stressed and hoping for a more calm and happy 2017? We now know that excess stress affects not only happiness, but the entire body, and may be behind many of our chronic health problems. This class will introduce techniques for addressing stress and improving relaxation with herbal remedies, diet, and lifestyle. The class format includes lecture, hands-on medicine-making, and, weather permitting, time enjoyed outdoors.
Instructor Daylin Wade is a gardener and herbalist from Sacramento, now living and working on a farm in Nevada City. She is passionate about growing quality food, plant medicine, and maximizing self-reliance. She has grown food gardens on the California coast, in Sacramento, and on a remote ranch in Patagonia, and is currently completing a masters degree in therapeutic herbalism. She has taught gardening and herbal classes at Soil Born Farms since 2014. Registration >>
Bird Walks
Saturday, January 21 • 8 to 10am
Saturday, February 18 • 8 to 10am
Herbs for Strengthening and Rejuvenation
Saturday, January 28 • 12 to 3pm
The Wonders of Fungi and Mushrooms
Saturday, February 4 • 12 to 3pm
Cooking Out of the CSA Box
Wednesday, February 15 • 6 to 7pm
Fruit Tree Care
Saturday, February 18 • 1 to 5pm
The Art of Herbal Medicine Making I
Tuesday, February 21 • 5:30 to 8:30pm
The Art of Herbal Medicine Making II
Tuesday, February 28 • 5:30 to 8:30pm
Rent the Schoolhouse
A Rustic Option for Meetings and Corporate Retreats
Looking for a unique location to host a business meeting, training or planning retreat? The American River Ranch offers a beautiful, rustic alternative to conference rooms or hotels. Our Schoolhouse is available on weekdays. Customized rentals can include: farm tours, outdoor spaces, catering, cooking demos, hands-on activities and classes. Sorry, no private parties or weddings at this time. Fees benefit community education programs. For more information about fees and availability, contact Adriana >>
Little Free Library at Soil Born Farms
building community • sparking creativity • inspiring readers
We are excited to join the Little Free Library network. Our friend and super volunteer, Michael Covey built us two little free libraries inspired by and located near the Farmstand. Local artist, Juan Carlos Gonzalez, a West Sacramento native will be adding the finishing touches. We have one library for adults and one of kids. We would like to dedicate our libraries to contain books on the following topics:
Adults: gardening, cooking, herbs, native plants, health, wellness, conservation, field guides, trees, homesteading, raising chickens, soil, farming, earth building
Kids: nature, animals, fairies, insects, cooking, gardening, environment, farms
Free Little Library Book Donations Wanted
If you have books that are on our wishlist above that you wish to donate, please drop off to Rebecca in the office. Once our little free libraries are stocked, remember it's take a book, leave a book. For more info or to add one to your home or business >>
Happy New Year
We Appreciate Your Support
From the tallest farmer to the smallest bee, all of us at Soil Born Farms thank everyone who recently donated during our Harvest Fundraising Drive! Your generous gifts make our work possible and will help us realize our vision to: Train More Farmers • Feed More People • Teach More Kids • Restore & Develop the Historic American River Ranch.
We look forward to all the things to come in 2017. The possibilities for Soil Born Farms and our community are limitless because of your generosity. We hope you will visit us soon to see the work made possible by your support. A huge thank you to Western Health Advantage, Dave & Maxine Clark Family and Fred & Betsy Weiland for matching all gifts received for our Harvest Fundraising Drive.
It's not too late to donate. Your generous gifts help us improve health and reduce hunger in our community. Thank you!
Yelp Foundation Update
Thanks to Taking the time to Vote for SBF!
Soil Born Farms won a $3,000 grant from the Yelp Foundation Gives Local grant contest! Thank you to everyone for taking the time to vote and support us. This grant will go a long way towards educating youth and young farmers and providing healthy food for the hungry as we restore our historic American River Ranch. We are very grateful for your support.
Eat Your Fruit & Veggies
Garden to Pantry Preservation Tip: Lemon Curd
Making a fruit spread is a delicious way of preserving nature's bounty and adding interest to meals. This technique of preservation results in a rich, smooth, melt-in-the-mouth lemony blend that is prized in the best year-round or holiday gift-giving tradition. There are many different ways you can make lemon curd. This recipe is easy and delicious and can be enjoyed spread on cakes or cookies, in pies or meringues and even as an ice cream topping. Recipe >>
It's in Season Recipes: Lemons & Lemon Curd
Check out 12 creative ways to use lemon curd from Cooking Light >>
After eating your dark leafy green veggies, treat yourself to a Lemon Thumbprint Cookie >>
Health Tip:
The benfits of drinking Lemon Water >>
Get Involved! Volunteer Opportunities
There are Many Ways to Engage with Soil Born Farms
We are excited about the variety of volunteer opportunities that are available in 2017! Most of these will begin in February, so make sure you have subscribed to our monthly On the Horizon volunteer issue so you don't miss upcoming dates and pre-registration.
Sign up to receive a monthly update with volunteer opportunities >>
Select the volunteer opportunities option or contact the office to subscribe: 916 363.9685.
Farewell Michele Ranieri
Wishing You All the Best
A note from Michele: I started at Soil Born as a second year apprentice six years ago and I became a Program Manager for the Edible City and the Greenhouse. I have had the chance to work with bright and excited apprentices, countless devoted volunteers, dedicated staff, resilient community leaders, and inspiring teachers. Being a part of the Soil Born community has changed my life in so many ways. I want to thank everyone for the opportunity to touch your lives and hope that you all continue to grow and deepen your connection food, health, and the environment. Good news! Michele will be teaching classes at Soil Born Farms this year.