Everything good in this world comes from love, land and labor. ~Van Jones
A Garden in Every School Symposium
Early Bird Registration Ends Friday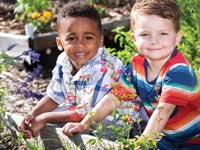 We've planned an inspiring weekend for you! Network with like-minded teachers, parents, garden designers, community leaders, school garden coordinators, and others involved with helping kids make the connection between food, health and the environment. By encouraging and supporting a garden in every school, we create opportunities for our children to discover fresh food, connect to a living environment while applying academic standards, to develop social and emotional skills and consider future career options. This weekend will encourage and prepare you to "Do One Thing" that builds the garden learning on your campus.
Our intention is to advance Delaine Eastin's A Garden in Every School initiative by advocating for a collaborative regional commitment to accomplish the goal of a garden in every school by 2020 for the children of America's Farm-to-Fork Capital. Will you help us?
Saturday, February 25 & 26 • Luther Burbank High School
Workshops, Success Stories, Best Practices, Panel Discussions, Delicious Food
Featured Speakers Include:
Rachel Pringle, Chief Strategy Officer, Education Outside, San Francisco
Karen Brown, Designer and Creative Director, Center for Ecoliteracy
John Fisher, Director of Programs and Partnerships, Life Lab Santa Cruz
Download the draft schedule >>
Early Bird: $75  After February 17: $95 (Discount for groups of 3+)
Summer Day Camp
Register Today!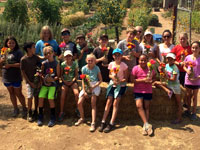 This summer, students entering grades 1 through 12 have the opportunity to attend one of our three camps. Two new options to choose from! Our Summer Day Camps are unique, fun and educational on Soil Born Farms 55-acre ranch located along the American River Parkway. Our camps provide a wonderful opportunity for young people to make the connection between food, health, and the environment, and learn more about what it takes to bring food from the farm to table. This memorable summer activity for your children has the potential to be life-changing! More info and register >>
Learn at the American River Ranch
Let us inspire you! Pre-Registration Required
View complete schedule of classes, events, instructor info and registration >>

Featured Class
Beginning Home Gardener Course
Tuesdays, March 14, 21, 28, April 4, 11 • 5:30 to 8pm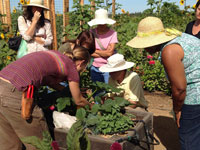 Designed for beginning gardeners, the Grow Your Groceries Beginning Home Gardener Course will cover the essential topics to help the new gardener create and maintain a thriving, abundant edible organic garden. Combining indoor presentations and interactive demonstrations and hands-on activities, this class will give you the knowledge and confidence to get out and grow food for you and your family. Course topics include garden design and seasonality, building healthy soil, garden preparation and planting, water and irrigation, garden ecology and pest control and growing herbs and perennials. Registration >>
Bird Walks
Saturday, February 18 • 8 to 10am
Saturday, March 25 • 8 to 10am
Fruit Tree Care
Saturday, February 18 • 1 to 5pm
The Art of Herbal Medicine Making II
Tuesday, February 28 • 5:30 to 8:30pm
The Spring Herbal
Saturday, March 4 • 9am to 12pm
Preparing a Spring Garden
Saturday, March 4 • 1 to 4pm
Cooking Out of the CSA Box
Wednesday, March 15 • 6 to 7pm
Raising Backyard Chickens
Saturday, March 18 • 9am to 12pm
Gardening with Native Plants
Saturday, March 18 • 1 to 4pm
Save the Dates
Spring Gardening Clinic & Elderberry Farms Native Plant Sale
Saturday, March 25 • 9am to 3pm • American River Ranch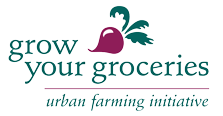 Learn how to grow vibrant, tasty, and healthy plants from Soil Born Farms' knowledgeable staff and community educators. Visit the plant sale to fill your spring garden with native plants from Elderberry Farms, succulents, medicinal and culinary herbs and edible perennials. Event includes free classes, farm tour, bird walk and herb walk. A healthy lunch plate and snacks will be available, More info >>
Sign up for our Spring/Summer CSA
Enjoy Certified Organic Produce from Soil Born Farms
Early bird registration opens on March 25. Receive your first box on Wednesday, May 24.
Learn more >>
Get Involved! Volunteer Opportunities
There are Many Ways to Engage with Soil Born Farms
Enjoy Spring at Your Community Farm and Volunteer!

Sign up to receive a monthly update with volunteer opportunities >>
Select the volunteer opportunities option or call the SBF office: 916 363.9685.
Volunteer Orientations
Thursday, February 23 • 6 to 7:30pm in the Schoolhouse
Are you interested in volunteering at the farm but you aren't sure what opportunities are available? Join us at the American River Ranch for our general volunteer orientation and learn more. Sign up >>
Wednesday, March 1 • 5:30 to 6:30pm in the Farmhouse Kitchen
Discover volunteer opportunities in cooking, teaching about nutrition, helping with events and food preservation at Soil Born Farms. Orientation includes a tour of the farm and Farmhouse Kitchen. If you are interested or have questions, contact Michelle Sikora >>
Vehicle Mechanic Needed
Do you have an affinity for vehicle maintenance and a desire to help out a local non-profit organic farm? If so, we would love to hear from you. We are looking for those interested in volunteering skills and time to provide routine maintenance and small repairs when needed on our farm tractors and vehicles. Contact Tyler >>
Help Us Get the Word Out
We need volunteers to distribute event and class flyers throughout the Sacramento area. Must provide own transportation and enjoy interacting with the public. Distribution dates and times vary. A stipend for gas expense will be provided. Contact Adriana >>
Join the Harvest Sacramento Team
Community Citrus Harvest and Tree Planting Events
Our annual series of community harvest events is now in progress. This year we also offer fruit tree planting events as part of our Neighborwoods in South Sacramento partnership with the Sacramento Tree Foundation. Please join us to help bring the edible city to life. More events will be posted soon.
Facebook Events / Eventbrite Registration / Sac Tree Events
Saturday, Feb. 18 • 9am to 1:30pm • Centennial United Methodist Church
Hollywood Park/Land Park citrus harvest. More information and sign up >>
Harvest Logistics and Office Support Volunteer Needed
In addition to harvest group leaders, we need volunteer support around harvest logistics and administrative duties at the American River Ranch. Tasks include making phone calls to tree owners, entering waivers into our database, filing waivers, refilling group leader binders and labeling preserved fruit. Contact Dominic >>
Harvest Vehicle Needed
Do you own a van or truck that you are looking to donate to a local non-profit organic farm? We are looking for an operational (but not necessarily road-worthy!) vehicle to assist with our vegetable harvests. Vans and trucks with camper shells or enclosed beds work best as they provide necessary shade and protection from the elements during our harvest. Vehicles dramatically help us preserve the quality of our produce and our bodies. Contact Tyler >>
Eat Your Veggies: Cabbage
Garden to Pantry Preservation Tip: Sauerkraut
Cabbage is in season! This humble vegetable provides a wealth of nutritious health benefits and has a reputation for its cancer-fighting compounds. Loaded with fiber, vitamin K and vitamin C, low in calories and fat; this vegetable should be at the top of your grocery list.
Fermented foods, such as sauerkraut, contains probiotics which help improve immune function and the health of your intestinal tract. Sauerkraut is fermented using salt so it does contain sodium. However, preparing it yourself can cut down on the sodium and it is easy to make. You do not need special equipment or fancy crocks. If you are interested in making small batches, try this easy way just using Mason jars. View sauerkraut recipe >>
It's in Season Recipe:
Hot & Sour Soup with Cabbage, Mushrooms and Rice
Rent the Schoolhouse
A Rustic Option for Meetings and Corporate Retreats
Looking for a unique location to host a business meeting, training or planning retreat? The American River Ranch offers a beautiful, rustic alternative to conference rooms or hotels. Our Schoolhouse is available on weekdays. Customized rentals can include: farm tours, outdoor spaces, catering, cooking demos, hands-on activities and classes. Sorry, no private parties or weddings at this time. Fees benefit community education programs. For more information about fees and availability, contact Adriana >>
We count on your generous support to continue our work and service to the community. Please consider donating today. Thank you!