Special Summer Program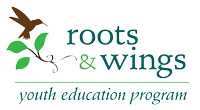 Through experiential learning, discovery and play, youth will deepen their connection to food, health and the environment. Participants will explore, create, learn, sing and enjoy the outdoors. Kids on the Farm classes are designed for youth ages 7 to 11 years old. Each themed class will be unique and can be enjoyed as individual classes or taken as a series.
Thursdays from June 24 through July 29, 8:30 to 11:30 am. Price: $30 per class.
For more information and to register >>
June 24: Pollinator Palooza
July 1: We Dig Dirt
July 8: Roots, Shoots and Seeds
July 15: Nature Creations
July 22: Calling All Critters
July 29: Water Wizards