Create Your Spring Garden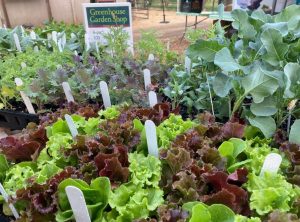 Let's Get Growing!
Visit our Greenhouse Garden Shop & Fruit Tree Nursery to fill your garden with vegetable starts, edible perennials, medicinal and culinary herbs, succulents and fruit trees which will provide food and beauty through the spring and summer. All plants are organically grown with love and selected for the Sacramento area. Start preparing your garden by amending your soil with a high quality compost and vermicompost. Plant your beds with a mixture of vegetable, flower and herb seedlings to attract pollinators, fill your belly and fuel your soul. Pick up high quality potting soil, compost and seeds and chat with our educators.
Two Ways to Purchase Organic Seedlings
Shop at our Online Marketplace to check out our selection of fruit, vegetable, flower and herb seedlings. We have soil, compost and other garden goods. Order Tuesday from 5pm through Thursday at 9am. We'll have your order ready to pick up at our drive-thru farmstand on Saturday by appointment.
Shop at the Greenhouse Garden Shop & Fruit Tree Nursery every Saturday* from 8am to 1pm from April 1 through May 27. Stock up on warm weather crops, herbs and flowers and enjoy a relaxing morning at the farm. * The farm will close early on 4/22 at 12pm.
Fruit Tree Sale
Fruit trees are long-term investments which provide both nutritious food each year and beauty to any garden. Our standard and semi-standard fruit trees can be pruned to fit the space limitations of your garden and are bred for easier care and harvest. Choose from varieties that grow well in this region. Trees are on sale for only $34.99 each. Fruit trees are a thoughtful, practical gift that keeps on giving. Shop for trees and supplies for successful planting at the Online Marketplace or at the farm on Saturday.