Empowerment for Young Women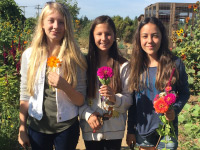 Our after school program is an opportunity for young women ages 13–18 to engage with the natural world and deepen their connection to themselves, their environment, their health and each other. This program will build community and support teens in healthy transitions toward adulthood. Through interactions with the land, we aim to empower young women to build inner strength and confidence as well as learn valuable leadership and life skills. The program will be flexible and adapted to meet the interests and passions of the group.
Activities will include: gardening • cooking and eating together • health and nutrition medicinal, edible and traditional uses of plants • wild crafted art • exploring the American River Parkway.
The program is ten sessions, held on the second Wednesday of the month, from September 13 to June 13, 2018, 3:30–5:30pm at American River Ranch.
Program Cost: $150/ $125 Early Bird (ends August 13). Scholarships available. For more information, contact Alyssa >>