This event is SOLD OUT, we hope you can join us next year.
You're Invited to Our 16th Annual Fundraiser
Saturday, September 15 • 5:30 to 9:30pm • American River Ranch • $75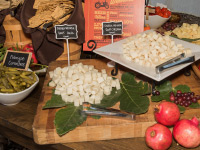 Join us for Fine Food, Wine & Beer Tasting and a Raffle at our historic American River Ranch, an urban agricultural oasis located on the American River Parkway in Rancho Cordova. Explore the farm and gardens, enjoy live music (Mind X Quartet, The Ice Cream Union Stringband and Richie Lawrence) and sample seasonal and organic food prepared by prominent local chefs, taste exceptional wine and beer and celebrate the harvest season under the stars. Don't miss this traditional farm-to fork-event!
This event is SOLD OUT. No tickets will be sold at the door. No refunds for Annual Fundraiser tickets. This is an adult event, please check our calendar for our many family-friendly activities.
The Autumn Equinox Celebration brings together local chefs, restaurants, bakeries, wineries and breweries that have been trailblazers in Sacramento's local food movement. The generosity of the Sacramento Natural Foods Co-op, participating businesses, musicians, volunteers, underwriters and attendees provides essential financial support for Soil Born Farms Urban Agriculture & Education Project. Through collaborations with many partners in the community, including the Sacramento Food Bank & Family Services, we are focused on healthy food access for all, training new farmers, education for youth and adults and the development of the American River Ranch community farm and Center for Food, Health & the Environment. We believe by working together, learning more about the potential of the urban environment to produce food and helping urban and rural farms thrive, our region we will make significant headway towards improving health and reducing hunger. Photo by Joan Cusick.
Many thanks to our event sponsors: