Saturday, August 24 • 9am to 1pm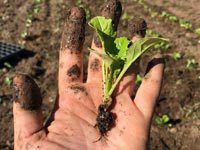 Learn how to grow vibrant, tasty and healthy plants from our knowledgeable staff and community educators. Visit our organic plant sale to fill your garden with vegetable starts, edible perennials, medicinal and culinary herbs, succulents and flowers which will provide beauty and food through the fall and winter. All plants are organically grown with love and selected for the Sacramento area. We will also have a limited quantity of fruit trees for sale.
Free Gardening Classes
8:15–9am Preparing a Fall Garden with Shawn Harrison, Soil Born Farms (Outside*)
8:15–9am Backyard Urban Beekeeping with Rachel Morrison, The Beecharmers (Schoolhouse)
9:15–10am Worm Composting with Kate Waldo, Worm Fancy (Schoolhouse)
10:15–11am Raising Backyard Chickens  with Greg Howes and Brian Fikes, Two Flew the Coop (Schoolhouse)
10:15–11am Edible Gardening in Small Spaces with Jenn MacLeod, Soil Born Farms (Outside*)
11:15am–noon Builiding Soil Fertility with Mark Van Horn, M.S. Plant Breeding (Schoohouse)
12:15–1pm Gardening  with Native Plants with Mark Lum, Native Plant Specialist (Schoolhouse)
*Meet next to the Schoolhouse
Tours, Walks & Talks
Meet at Oak Shelter
10–10:45am Farm Tour with Shawn Harrison, Soil Born Farms (Oak Shelter)
11–11:45am Regenerative Farming Walk & Talk with Tyler Stowers, Soil Born Farms (Oak Shelter)
11:30am–12:15pm Herb Walk & Talk with Kellan MacKay, Soil Born Farms (Oak Shelter)
12–12:45pm Explore Volunteer Opportunities with Adriana Jones, Soil Born Farms (Oak Shelter)
Culinary Arts Fundraiser • 9am to 1pm
Enjoy our delicious Culinary Arts team fundraiser. Brunch service starts at 9am. Come and get it before we run out. Proceeds benefit our education programs. Proceeds benefit our Eat the Rainbow culinary arts program.
Summer Menu: Roasted cherry tomato and goat cheese frittata, herbed potatoes, fresh fruit and a baguette and butter. $8 donation.
Kids Plate: Whole grain farm animal-shaped waffles with fresh fruit and organic juice. $5 donation.
Location: American River Ranch, 2140 Chase Dr., Rancho Cordova.