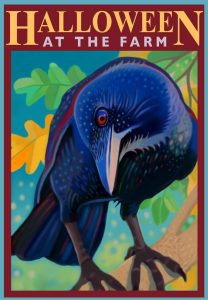 October 28 • 8am to 1pm
Show off your Halloween costumes and explore the Spooktacular Youth Garden for all kinds of fun including animal explorations and tracking, insect identification, spooky scavenger hunts and games. Meet the critters and creepy crawlies from our friends at Sacramento Splash and Save the Snakes. It is sure to be a treat! Create natural Halloween decor for your home. Make leaf crafts, nature crowns, and corn husk dolls. It is sure to be a treat! $5 per person (ages 3 to 11) for a wrist band to enter the Spooktacular Youth Garden. Payable at the turquoise Welcome Info Tent. Kids must be accompanied by an adult.
Highlights
See What's Happening on the Sun
Community Observatory docents will set up several types of solar telescopes for safe public solar viewing of the exciting events happening now.
Bat Hollow Maze
A Halloween tradition at Soil Born Farms created by our farmers.
Kids of all ages love to run, play and get lost in the maze. It's in a new location this year.
Learn About Bats, Owls, Crows & Hawks
Naturalist Cliff Hawley will give a free talk in the Sacred Circle at 10:15am
Regenerative Agriculture Farm Tour
Explore the American River Ranch through the eyes of a visionary.
Walk and talk with Shawn Harrison, Co-Director. See how our farmers implement regenerative practices that revitalize the land and restore the historic American River Ranch. Many of these principles can be applied to your home garden. Everyone can play a part in creating a climate-safe California.10:30 am. Pre-registration required.
Live Music with Millington Strings
Enjoy the classic tunes with a cup of Pachamama coffee and local baked goods available at Phoebe's Tea & Snack Bar.
Special musical guest Jillian Van Ness of Grow Resilient Families will be playing a "spooky and festive set of tunes geared towards 0-6 year olds, but that's fun and engaging for the whole family" 10:15-11am.
Storytelling with Kimberly Austin
Local author and storyteller Kimberly Austin will be reading her new children's book Little Glory and the Wham-demic in Sacred Circle at 9:30 am and 11:30 am.
Farmhouse Kitchen Pop Up Brunch
9am to 1pm or until we sell out. Proceeds benefit our education program.
Frittata Plate
Autumn Vegetable Frittata served with a mixed green salad and Camina bread & butter.
Li'l Sprouts Plate
Three Organic Buttermilk Pancakes served with organic butter & organic maple syrup. Chocolate chip option.
Green Plate Special
Black bean chili served with a mixed green salad & sweet chive cornbread.
Sponsors
Sacramento Natural Foods Co-op
Pachamama Coffee
Community Observatory